Join us for Dragons of Tarkir Game Day!  $5 entry fee.  The tournaments will be standard format.
When: Saturday, April 18, 2015 @ 5:00 pm and second flight @ 7:00 pm
What Does a "Standard Deck" Mean?
The current block, the block that was released the previous fall, and the most recent core set are all legal to play in a Standard deck.
The following sets are currently Standard legal: Theros, Born of the Gods, Journey into Nyx, 2015 Core Set, Khans of Tarkir, Fate Reforged and Dragons of Tarkir.
What Do I Get?
All participants receive a Scaleguard Sentinels full-art promo card (while supplies last) for each flight they play in. The Top 8 players in each flight each receive an exclusive Thunderbreak Regent full-art foil promo card.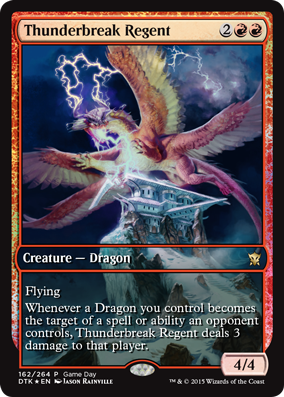 Game Day Champion for each flight will receive an exclusive playmat as shown.